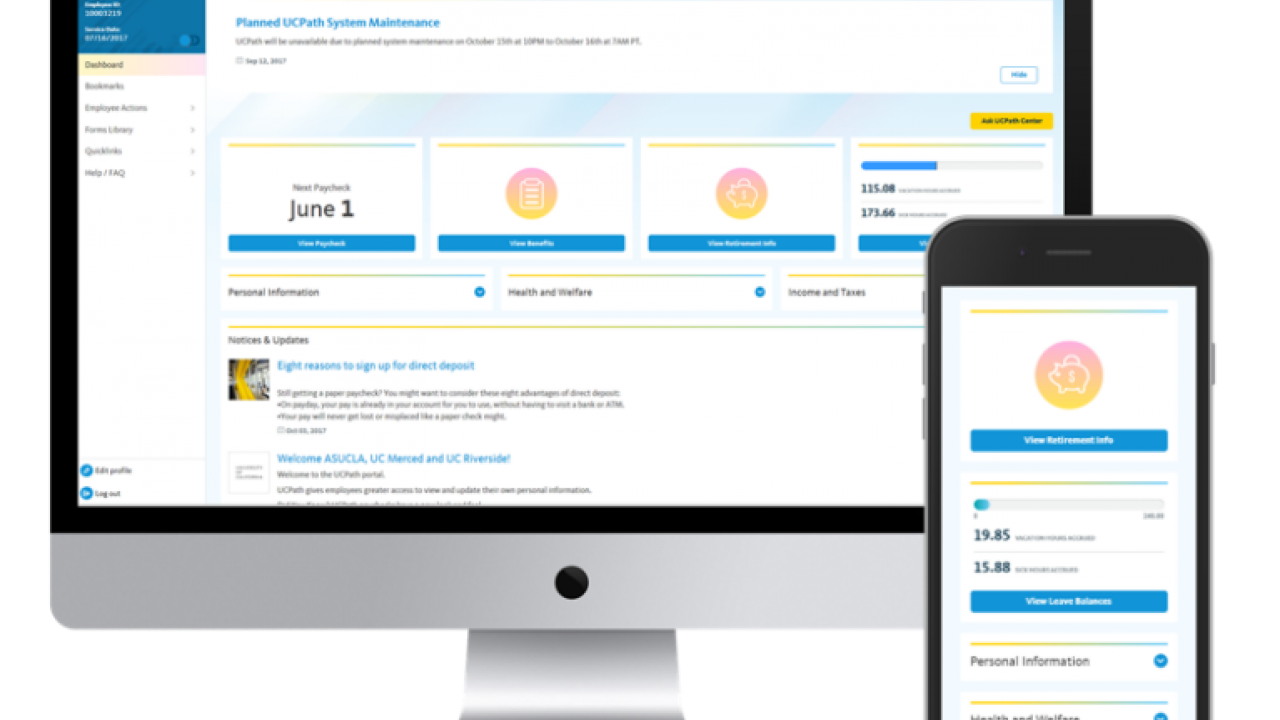 Powerful new tools and options
The new UCPath system will unify 11 existing Payroll Personnel System (PPS) instances, and is capable of handling the complex UC employee population and changing business needs. When the system goes live, UC Davis employees will have a set of powerful new tools and options to view and manage their payroll information. The new payroll system brings several key changes:
Modern portal and user interface for payroll
The UCPath portal, featuring leave balances and paycheck information, will be available from mobile phones as well as desktop computers and tablets. Preview the intuitive, easy-to-navigate payroll screens here.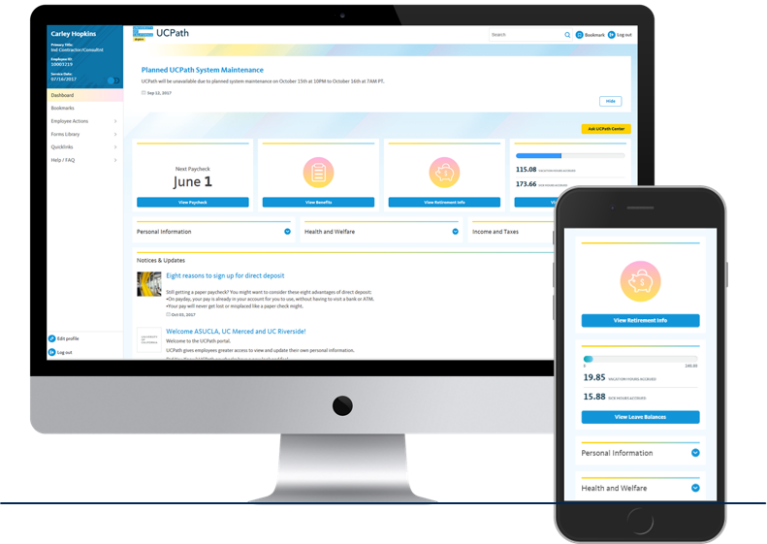 Local pickup of paychecks will be discontinued
As part of the system change, employees will no longer be able to pick up paychecks locally on campus or in their departments. Instead, paper paychecks will be mailed on payday to home addresses via the U.S. Postal Service. All paycheck mail will be managed by the shared UCPath Service Center, in Riverside, CA.
For people used to same day pickup of paychecks, this new process will add additional time based on U.S. Postal Service mail delivery turnaround times
To avoid this delay, employees are encouraged to use the direct deposit option—sign up via At Your Service (AYSO) at their earliest convenience to ensure set‐up prior to go‐live—it may take up to two pay periods for a new direct deposit accounts to become active.
Specify up to three different Direct Deposit accounts
The direct deposit option is a fast, safe and secure way to receive your pay. And with UCPath, it will get even better. Employees will be able to specify up to three destination accounts. Please note: multiple accounts cannot be specified until the new system goes live.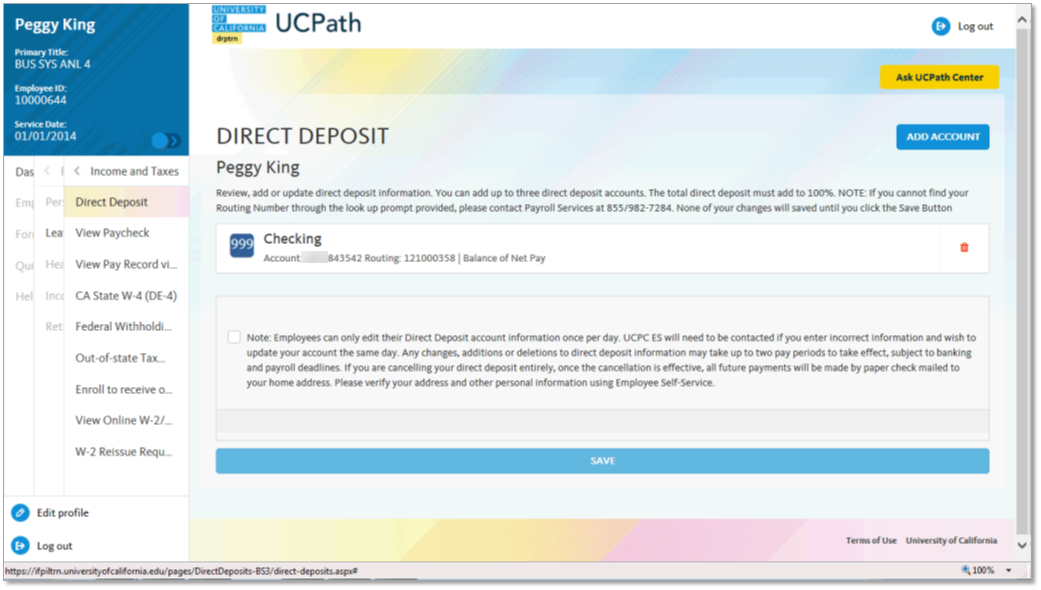 The main direct deposit screen on the UCPath Portal.
Direct deposit is the fastest and most convenient way to get paid—funds hit your financial institution account(s) on payday. It is secure—there's no chance of a physical check getting lost or stolen. And U.S. banks participating in the ACH Network (almost all) are available. Because direct deposit doesn't involve paper and transportation, it is an environmentally friendly and cost-effective way to go.
Employees are encouraged to sign up. Please note: If you are already using direct deposit, no action is required.
Credit Union deposits no longer handled as payroll deductions
Currently deposits to credit union accounts are executed as payroll deductions, not standard direct deposits. After UCPath goes live, credit unions will be handled like standard bank accounts. Employees who currently have credit union deductions will be contacted, and the goal will be to have new direct deposit accounts set up for them in advance of go-live.
Centralized Payroll Processing
All payroll processing across the entire UC system will be unified at the Riverside Service Center, as a shared service. This is part of the overall efficiency that will be gained by transitioning to UCPath, a system that will strengthen our foundation with stable, modern technology and updated processes.
Other important payroll changes
Paychecks will no longer be mailed to campus office addresses. Employees, including student workers, may use campus residential addresses, as these are served by the U.S. Postal Service.
Two W-2s will be issued for 2019 earnings: For the transition year 2019, two different W-2 earnings statements will be issued. You will receive one from the old (current) system for the time worked prior to UCPath go-live; and a second one from the new system. Those W-2 statements will be mailed in January 2020, as is required by law. This is a one-time situation.
Emergency / Off-cycle checks: Emergency paper paychecks will no longer be available for pick up locally on campus. ATM-style Pay Cards will now serve as an emergency payment method (or they will be sent via an employee's normal pay distribution method).
Pay cards as a payroll option are being used at some UC pilot campuses and are under consideration as an option for an employee who doesn't want to use a conventional bank account. They would be reloaded each pay day and act like a debit card—accepted anywhere Visa‐logo cards are accepted. More information will be communicated about this as we approach go-live.
Pay Advances will not be allowed in the UCPath system (in compliance with UC-wide rules).
Final pay:
Non Represented Employees: Employees will receive final pay on the next regular pay cycle (according to the employee's normal method of pay distribution) —or, they will receive an off-cycle final pay check in sensitive involuntary termination situations.
Represented Employees: Represented employees will receive final pay according to the terms of their collective bargaining agreement (and also according to the employee's normal method of pay distribution).
For both cases above, managers/Service Channels must request final pay in sufficient time to meet the next regular pay cycle or off-cycle payroll deadline.
Managing through change together
As a complex technology implementation, we will experience challenges along the way and urge your support and flexibility. Change is often difficult, and the benefits may not be felt for months after we go live, but UC Davis is committed and confident we are moving in the right direction.
Category
Tags