Accessing tax statements
You can now access your 2022 tax statements in UCPath. Here's what you need to know.
How to Download W-2 in UCPath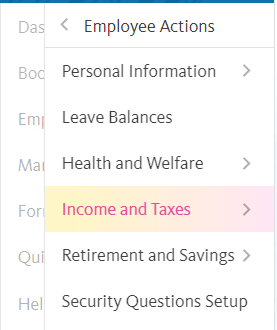 To access the W-2 on UCPath, click on Employee Actions > Income and Taxes > View Online W-2/W-2C
Information for current employees
Starting on January 27, 2023, all employees can access their 2022 W-2 on UCPath online: 
Employees who requested an electronic version of their W-2 received an email on January 27 notifying them of the online availability
Employees who did not select an electronic version may still access their W-2 on UCPath and will also be mailed a printed W-2 no later than Jan. 31, 2023
Information for former employees
Former employees have access to view or download their W-2 statements (up to three years after their separation date). To access their UCPath W-2, they can visit UCPath and click on Former Employee. Once logged in, click on Employee Actions > Income and Taxes > View Online W-2.
To access historical tax and earnings statements from before your location transitioned to UCPath, go to At Your Service Online (AYSO).
Information for retirees
Your 1099-R statements are available for viewing and downloading from your UC Retirement At Your Service (UCRAYS) account. Go to "Benefit Payments & Taxes" and click "Tax Statements."
Printed 1099-R forms will be mailed by Jan. 31, 2023, to the address you have on file. UC sends you a printed form unless you request an electronic version.
Important security reminder:
 UC does not send any tax documents by email or text. If you receive an email or text with a link or an attachment for viewing your tax documents, it is a phishing scam designed to gain your private information. Do not open attachments or click email links that claim to provide access to your tax documents. To access your electronic tax documents, always go to your 
UC benefits account
 using a safe/known link. To learn more about current tax scams, visit 
IRS consumer alerts
.
Have questions or need help?
Please visit UCPath and click on "Ask UCPath Center" to submit an inquiry. You may also call the UCPath Center at (855) 982‐7284 from 8 a.m. to 5 p.m. (PT), Monday through Friday to speak with an associate.