UCPath features designed to improve customer experience
UCPath Online has released new enhancements to improve your self-service experience and help you find the information you need.
Submit an inquiry
When submitting an inquiry in UCPath Online, you must complete the subject line and description box. Once you enter this information, UCPath will automatically recommend relevant solution articles based on your entries. This new feature is designed to quickly retrieve the information you need and potentially reduce the need to wait for a reply.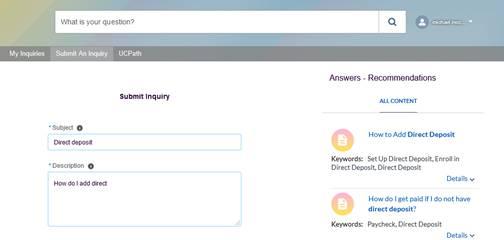 Search or ask UCPath
Both the UCPath Online search tool and the Ask UCPath tool now provide all the same search results. This effort to improve consistency in the online tools helps ensure that all relevant resources appear together in your search results. 

Schedule an appointment
After UCPath went live, an appointment feature was introduced to help save time waiting to speak with a representative. UC employees can schedule a phone appointment with a UCPath representative to discuss a previously submitted inquiry. Appointments are a good option for new employees who need help using UCPath for the first time or have questions about benefits enrollment. They're also great for employees who need help with lengthy or multiple inquiries.
One-hour appointments are available Monday through Friday, 8 a.m. to 4 p.m. (PST). Schedule an appointment at a time that's convenient for you — no waiting required! Read more about how to schedule an appointment.
Primary Category